Diversity among winning projects UT Challenge Grand Finale 2023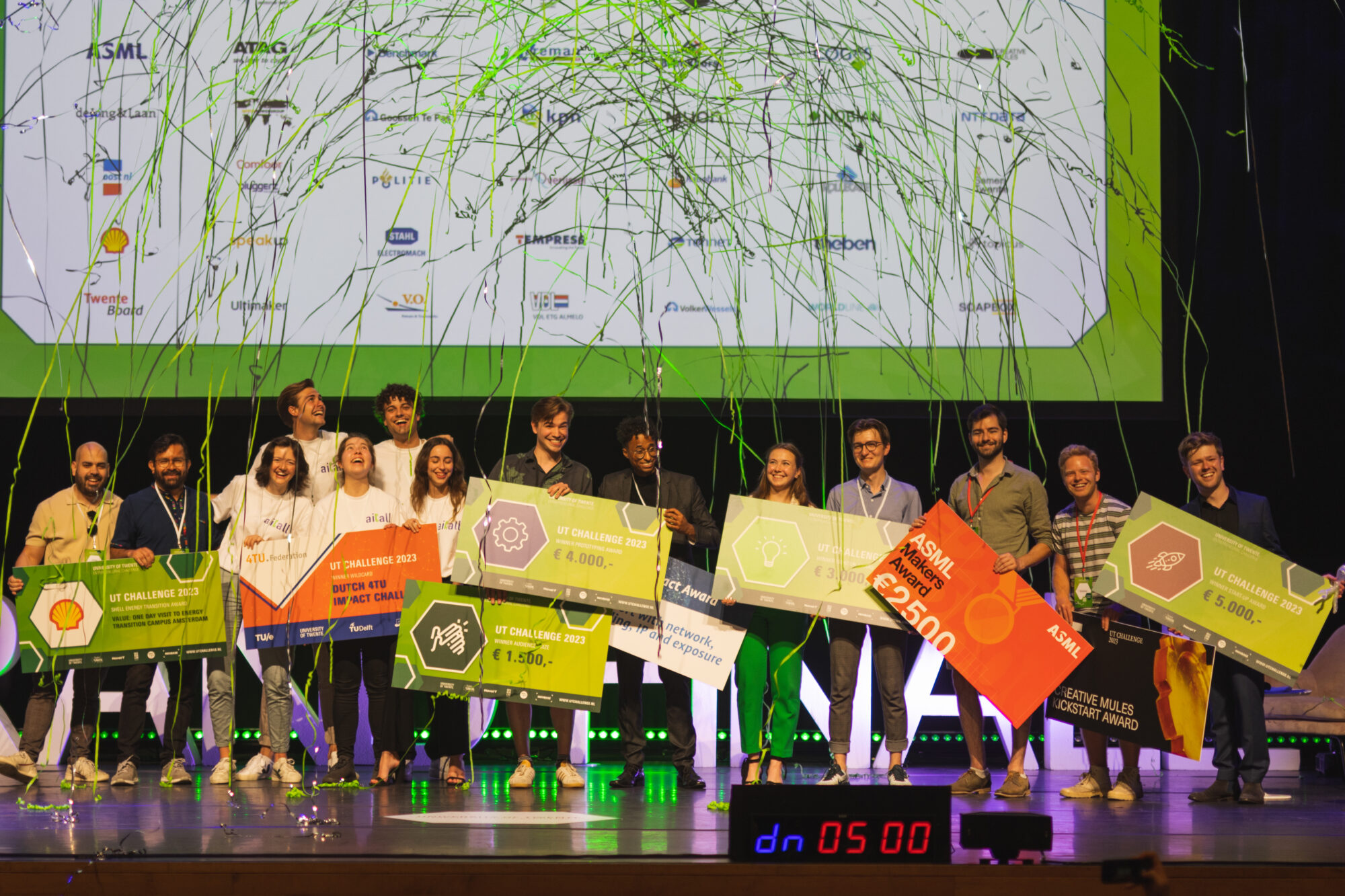 3D Medical Support (Start-up), J58 (Prototyping) and Treetune (Ideation) were declared category winners on stage of the seventh edition of the UT Entrepreneurial Challenge in Muziekcentrum Enschede on 20 June. They managed to convince the jury best and kept their cool in front of 350 attendees.
3D Medical Support uses the latest innovations in 3D printing technology to create tailored products which support medical professionals around the world. Their popularity resulted in the ASML Makers Award as well as the Creative Mules Kickstart Award being held up. With this, they receive substantive support from ASML and rebranding/communication assistance from Creative Mules.
J58 , a start-up developing a manual wheelchair that allows you to move around while standing, also won several awards. They will receive intensive support from Oost NL in the coming period, winning not only the Oost NL Impact Award, but also the Audience Award with the most votes from the public.
Treetune managed to inspire everyone with their pitch to save the trees in cities now. With the climate clock ticking.
AiCall survived a live demonstration by the judges with verve and will represent UT at the 4TU Impact Challenge.AMACHAN received the Shell Energy Transition Award and will soon start working on further development of their project at the Shell Energy Transition Campus.
The moderators on stage again this edition were Viktoriia Konashchuk (Student Business & IT) and Mike Verkouter(Novel-T). Atilla Kerpisci, on behalf of UT as Director Strategic Business Development and initiator of the UT Challenge, took charge of the welcome speech. The category awards were presented by Dr Rainer Harms (Faculty of BMS, Department of ETM), Miriam Iliohan (DesignLab) and Cindy Marsman (Novel-T) as chairs of the partner network juries. This year, the Grand Finale took place in an attractive and energetic Muziekcentrum in the centre of Enschede. Adding to the connection of the University of Twente and the city of Enschede.
Visit www.utchallenge.nl for more information on the winners, all projects at the start and the innovative UT Challenge partner network.